Dear (Insert Name Here) Week....something or other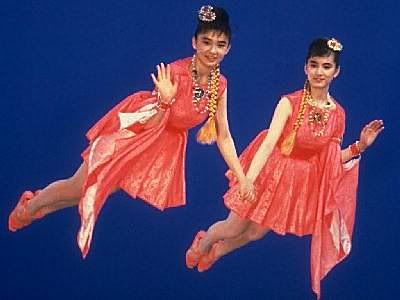 Dear Mary Kate and Ashley Olsen
what's up bitches??????
First and foremost I am just going to come right out and say, that I totally love you two. I could pretend to be all cool and say that I have only come to adore you once you hit "adulthood" and became fashion mavens, but I know in my heart that is not true.
You see I have a very vivid memory of being at an 8th grade dance, it was a Friday night and I was having a miserable time standing off to the side all geeky and forlorn with no one to dance with (except Karl, the kid with the bright red hair and stutter, but he would dance with anyone) and I very clearly remember leaning over to my equally geeky female friend and saying "I can't believe I am missing 'Full House' for this.
So you see, I am an old school fan.
So yesterday my bf (aka, my bubs) was home from work due to a thumb being "almost" cut off, and since he was home and feeling bad, he did what he always does, watches Godzilla movies.
Yesterday's fine piece of Japanese cinema was Godzilla Vs. The Sea Monster....I sort of like this one myself, not because of the giant crab like sea monster but because Mothra is in it, and when there's Mothra, there are the "Mothra Twins" or if you want to be specific about it they are actually the Mothra Fairies.
Anyway....right when I saw them the thought came to me that someone should re-make this movie and that you beauties should play the twins....
seriously I think it would be the highest grossing movie of all time.
I think if you could get John Stamos to play Godzilla in a combination of CGI and voice acting that would be so fierce, and maybe Bob Saget could play the giant crab like Sea Monster....and as for Mothra you could get that guy who played "Joey" on Full House, Dave what's his name...the one that Alanis Morrisette wrote all those songs about, so not only would you tap into the whole Godzilla subculture, but you would be giving the fans of Full House the reunion movie they've been clamoring for.
Get Quentin Tarrantino to direct and you are sure be #1 at the Box Office for at least 1 if not 2 weeks.
in all seriousness, I love you...Mary Kate more than Ashley (today at least)
love,
Jennifer Gordon
Labels: ashley, fan mail, full house, mary kate, olsen twins, stiletto heights